As the festive season is approaching, Kurk Kurk and The Open Photography Workshops (AFD) collaborated and made some postcards, bookmarks and notebooks. On the upcoming Tuesday – Wednesday (October 8 – 9) we will be attending 'Christmas 2 Business' event at Vilnius Town Hall. There we will be presenting AFD activities: we will showcase the cyanotype process, that was used to create the postcards and we will be taking photographs with the 'Five Minute Technique'.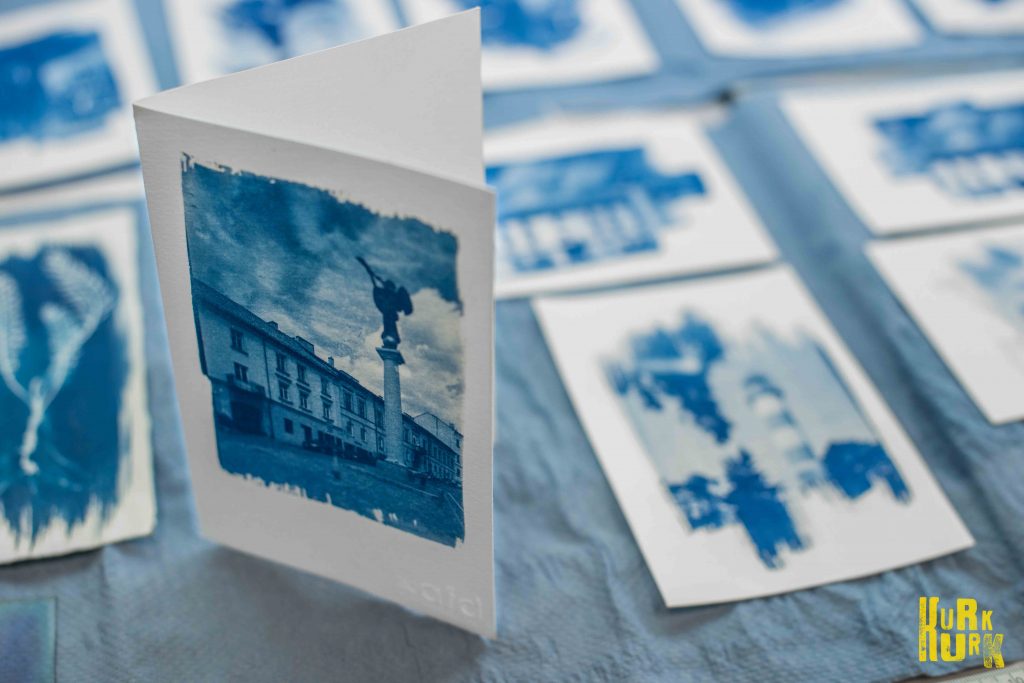 The Open Photography Workshops (AFD) is a project that is curated by the
professionals who work with an alternative photographic processes. AFD participates in a variety of events that showcase the craft of photography and the historical heritage of the old photographic techniques, and teach classical and alternative photographic processes.
Kurk Kurk collaborates with AFD and sometimes comes up with some interesting projects. This year we have already participated in the Sunny Nights Festival. We wrote about it on our blog. This time around, those who will be coming to the 'Christmas 2 Business' event, will have a close-up view of how cyanotype prints are made, as well as an opportunity to try out the process. Cyanotype is a printing process discovered in 1842. The result is a light or dark blue print.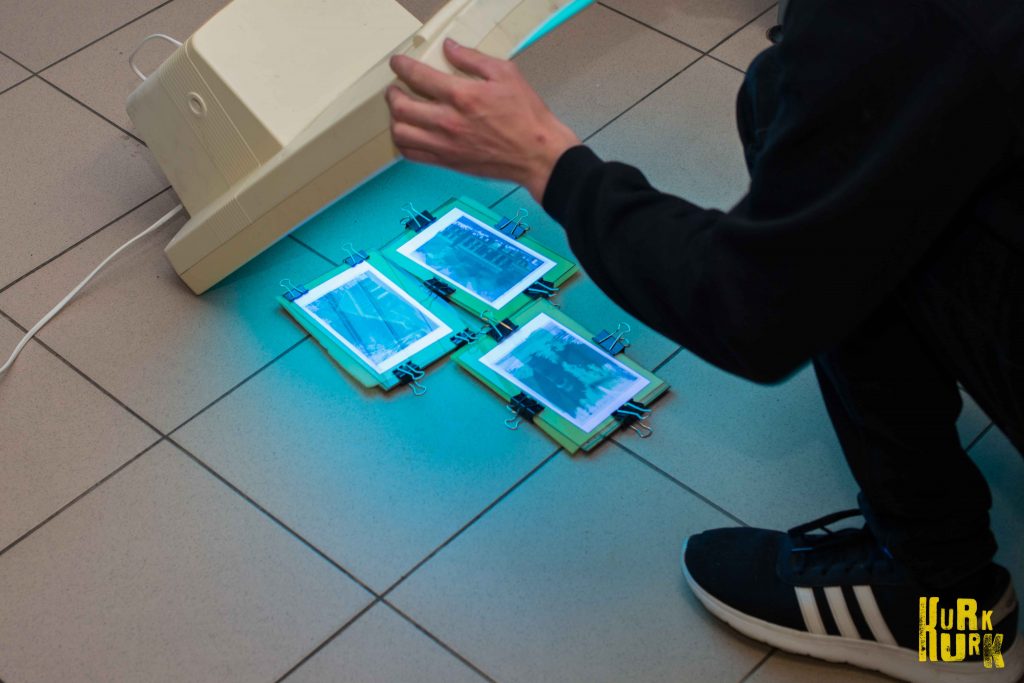 We made our prints on the watercolor paper, which was sensitized to light. When the chemicals are drie, the negative is pressed on top of the paper and the UV lamp illuminates the image. In addition to printing photographs, the cyanotype technique can be used to create photograms. Photograms (white silhouettes of objects on a dark background) are obtained by placing dried plants, small objects, materials on a light-sensitive paper.
Cyanotype can also be used to create a print on a book cover. Using a thicker watercolor paper provided by Smltart.com, we created book covers. After the paper had dried, we bound the books in Japanese style binding.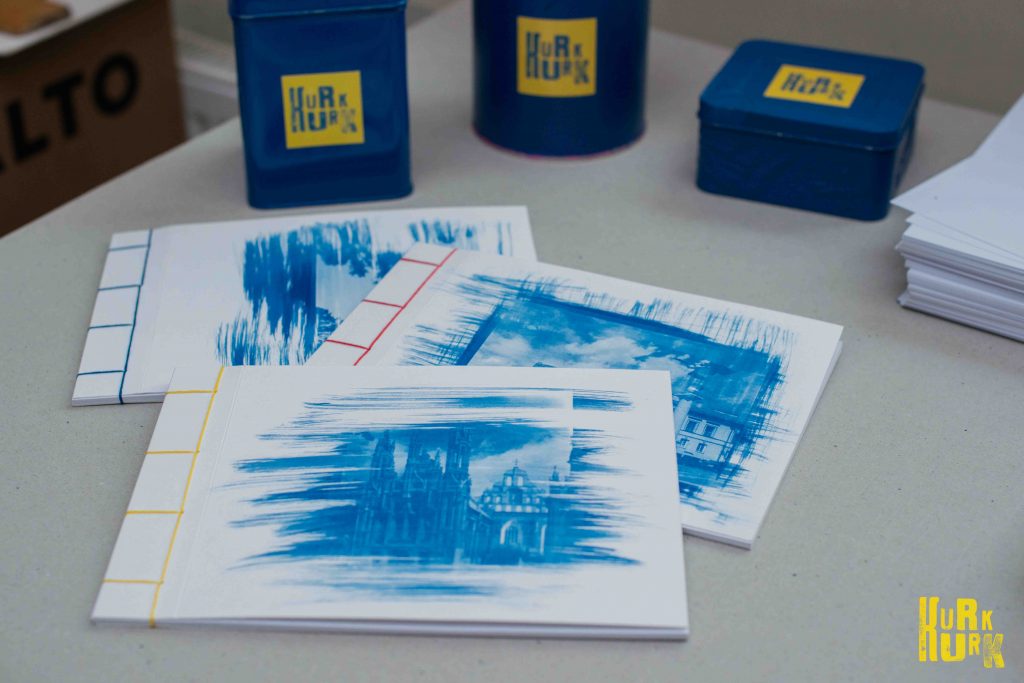 If you are interested in cyanotype technique and its capabilities, we invite you to visit the AFD page. There you will find all the information about the various analogue photography processes. We also invite you to take part in the 'Christmas 2 Business' event at Vilnius Town Hall on October 8-9, where you will be able to get a close-up view of old photography techniques. All event details can be found on AFD's Facebook.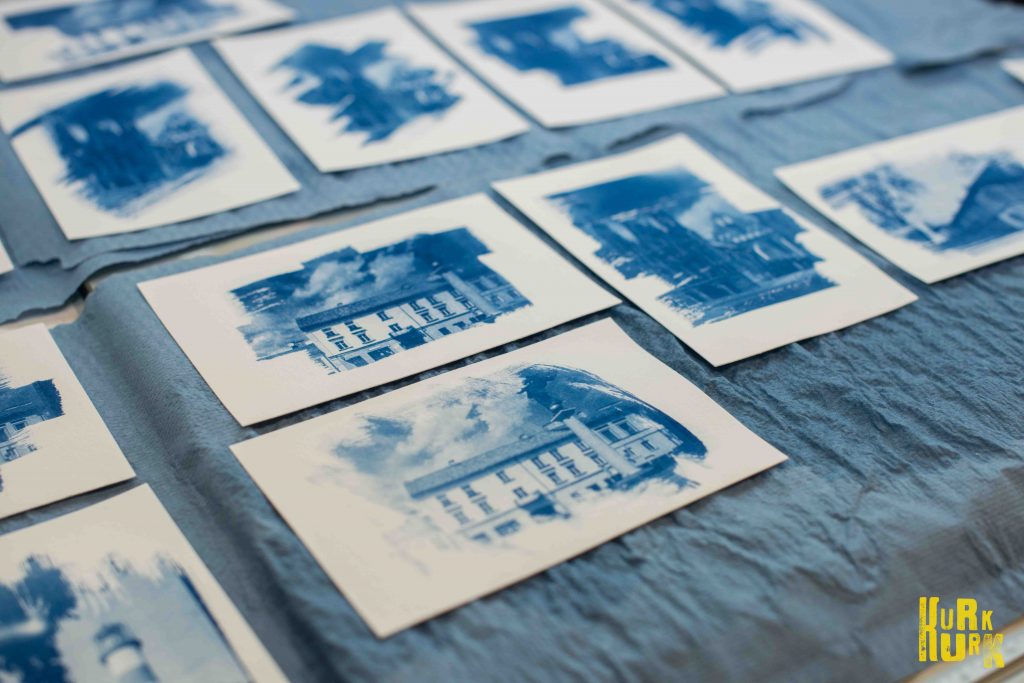 We are thankful to our sponsors at Smltart.com for the quality paper of different textures and thicknesses, that we used to create the cyanotype prints!
You can find out more about the Kurk Kurk's activity by reading other blog articles, visit our page and like us on Facebook. If you are interested in our activities and would like to participate in a creative workshop, write us at [email protected]
This workshop is sponsored by 'UAB SMILTAINIS IR KO'