This time for the #ArtMillers initiative Kurk Kurk invited an illustrator, traveler and adventure seeker Ieva Ragauskaitė! We will talk about Ieva's creative journey, travelling experiences in Southeast Asia and future plans. Ieva is interviewed by Kurk Kurk workshop organizers Urtė Baranauskaitė and Gabrielė Gikytė.
Your illustrations are saturated by images of women. They are different races, nationalities, age and body types. Why do you choose to portray women from such versatile backgrounds? Is it an image of your inner self?
Ieva Ragauskaitė (I.R.): Growing in Lithuania it was weird to see so many similar people around. They all looked the same – no spice. When I lived in Vilnius, I began to draw different women. It was a way for me to travel and meet versatile people and women whom I haven't met yet.
I have thought about this a lot, because collage artworks in particular where made with some kind of emotions that I felt at that time. For example, when I was hungry I would draw a woman eating, or if I felt energetic I would draw dancing women. I guess many artists paint or draw themselves, so it is possible that I unconsciously portray a part of myself in illustrations.
Your illustrations stand out due to the contrast of bold colour blocks and fine ornaments. You also use a collage technique. What are your inspiration sources?
(I.R.): I think the way I draw now is a result of my interest in classic graphic art. Graphic art will always be my first love, I always come back to it, I miss lino-cutting and the awful smell of turpentine. I have a hand in creating detailed, graphical artworks. That's way my illustrations resemble a collage. I began making digital collages when I lived in Cambodia, simply because I didn't had any journals. Now I do it, because I want to create something fun. For me collage is a perfect technique and I want to explore it's possibilities even more.
You have spent a lot of time travelling in Asia, lived in Sri Lanka and then Cambodia. Why do you feel attraction to eastern culture?
(I.R.): I have planned my first journey to Southeast Asia unexpectedly, without thinking too much about it. Sri Lanka sounded exotic. I did not know much about the culture of Sinhalese, only that it is a small island not far from India and has similarities with Indian culture. I have stayed in Sri Lanka only for 4 or 5 weeks and I realised that I have no desire to go back to Europe. The problem was that I had no money to travel further. After a year, I decided to travel alone trough countries adored by many backpackers – Thailand, Laos, Vietnam and Cambodia. Only after I settled down in Cambodia, I began to research eastern cultures more. I was surrounded by many different cultures – Chinese, Indian, French… Every country in Asia is completely different, so it is hard for me too say that I know a lot about them (for instance, I don't know that much about South Korea). Despite this, I was impressed by people's generosity, simple way of living and of course… delicious food. I gained a lot of valuable experiences in my adventures around Southeast Asia. Many of these experiences are still so fresh in my mind. Even though it may sound banal, I found and learned a lot about myself in Cambodia. I also learned to let go of my old perceptions that I grew up with.

Even though it may sound banal, I found and learned a lot about myself in Cambodia. I also learned to let go of my old perceptions that I grew up with.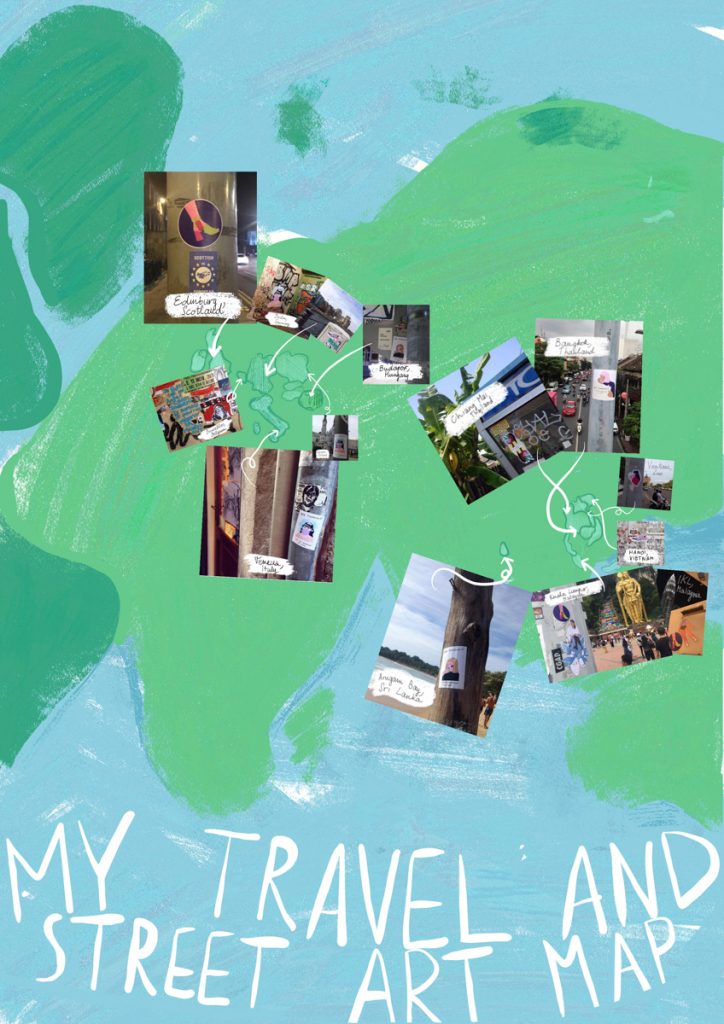 During the time you lived in Cambodia, you continued to draw and made some artistic projects. Could you tell us more about you creative experiences and achievements?
(I.R.): I would not say that I drew a lot when I lived in Cambodia. Even though I worked in a creative field, I did not had enough time for personal artistic projects. In the first year, I lived in a small room with other local people and only had a bed. When I moved there, I only had few kilograms of clothing with me, so I was more focused on "survival" rather then creativity. After I finally found my way around in this new enviroment, I started to travel more around the region and made some street art in Vietnam and Malaizia. Finally, I was invited to participate in the exibition that celebrated women artists of Cambodia. This exibition was very important to me, because it served as a proof, that I had become a "local" and that I was a part of this beautiful city and it's culture. For that exibition I chose to illustrate singers of the 60's era, because Cambodia was known as a "Pearl of Asia" and was famous with it's rock'n'roll singers.

How does your creative routine look like (if you have one)? Do you sketch out your ideas before making the final drawing?
(I.R.): Yes, I have finally created a routine, although my creative process looks more like a sudden bursts of motivation rather than consistent work. i suppose every artist's routines are similar, depending on whether they feel inspired or have an exciting project. We can work a lot if the deadline is close, or have a calm week when we spend time searching for new projects or clients. I work for myself (I am not a part of any agency), which means I have to take care of a lot of things. Sometimes I wish I could just sit and draw, bet we artists are a bit of a multitaskers.
I have never sketched out my ideas, simply because I hate sketching. For me, it is a higher form of art that I was not able to grasp. I have bought a big sketch-book, but… learning to sketch is my "MUST DO 2021".
When did you decided that you want to create illustrations? Did you had any examples, role-models that influenced you?
(I.R.): I decided to be an ARTIST when I was 14 years old. I remember me and my classmates found a "PRAVDA" magazine and it's theme was about graphic design. It was enough to get me intrested. I did not know what was graphic design at that time, but I wanted to study it. I went to an art school for a long time, where I tried a lot of things. I had most success with graphic art, so I began to draw and understood that this is my sphere. I was deeply influenced by my sister, who took me to CAC (Contemprorary Art Centre) and different galleries when I was just 12 years old. She sparked my intrest in art and bought me various artist's albums. One of them was about Andy Warhol. He's probably the artist, who is a role-model of many creators. I admired cinema and literature. I think all of these art spheres shaped me into the artist I am now.
At this moment you live in Lithuania. What are your plans for the future and do you plan to stay here for a longer time?
(I.R.): At this time I try not to make any plans, because it would drive me crazy. I am in Lithuania for 3 months now and I already want to travel somewhere, meet new people and experience different cultures. Lithuania is just an intermediate stop for me. I do not want to stay here for too long, but there is not much I can do in the current situation. In the near future I want to live somewhere in Europe – that was my plan. Although, I am not sure about a specific country, because I want to live EVERYWHERE.
Right now I am fully devoted to making art, I work a lot and draw every day, sometimes for commissions, other times for my personal projects. This keeps me motivated and brings me a lot of joy.
Do you have visions, plans for you art? What other themes are you interested in, what do you want to illustrate?
(I.R.): Maybe I do not have specific plans, but I did want to organise my persnoal exibition in Vilnius. I wanted to share my experiences while travelling around Asia, as well as show my love for Cambodia. I want to give something back to the country that has become my home. I hope that I can still do it! At the moment, I have time for non-commercial projects. Before Christmas, I plan to be a part of several projects as a vollunter. For a long time I have only illustrated women, but now I began to draw image of food. I am absolutely crazy about food, I measure all of my journeys in food. I also have around 7 thousand images of food, that I have made with an intention: "oh, this would be a great illustration". I look forward to become more brave and start to publish illustrations of football. This is one of my passions that I cannot ignore, especially living in Europe. I have unreasonable fears of bad reactions, because most of my illustrations are very "feminine" and "flowery". Still, I promise, that I will publish football illustrations soon!
If you want to learn more about Ieva Ragauskaitė and her art, please visit her portfolio ievarag.com and follow her on Instagram @ievarag.
To learn more about the activities of Kurk Kurk, read our blog articles. We also invite you to follow our page and like us on Facebook and Instagram. Until next time!